Once you have invested time and money producing a printed brochure for your business, it makes sense to do everything you can to get as much benefit from it as possible.
The most obvious ways to increase value are to only produce the number of copies you are likely to use before the information becomes outdated and to have a distribution plan to get your brochure to your intended audience efficiently and effectively. Print – no matter how well-produced – won't achieve anything if you keep hold of it.
But what other options are there for achieving additional value for money from the process?
Reuse elements of your thinking or even actual content
Print has a wonderful way of focusing the mind on exactly what you want to say. After all, you can't edit a printed document once it's been printed! Consequently, you are likely to spend a considerable amount of time, effort, and or money both on finessing your message and choosing just the right words, images, and materials to communicate it.
Why not take full advantage of your new-found insight by reviewing the content on your other channels? You may find you can reuse ideas, words, or images – either in part or wholly – on your web site, in adverts, or on social media. Consistency is a useful by-product of doing this. Someone who visits your web site will recognise repeated elements if they have already seen your brochure, and vice-versa.
However, there are a couple of potential pitfalls to watch out for if you choose to take this approach. Always make sure the content you are publishing is right for the medium. We read differently on screens to in print, so text may need to be shortened, divided into more sections, or need additional sub-heads to make it suitable to use on your web site.
Also, beware of falling foul of licensing restrictions on any piece of content. Illustrations and photographs are most likely to have restrictions on how you use them, but if you have used a copywriter do check their terms and conditions as well. This is just one reason why you need to think about all the ways you might want to use content before you commission or purchase them.
Convert a PDF of the finished brochure into an HTML5 'flipping' brochure
This can work well, but it can also present problems. There are a lot of providers who will convert a PDF to an animated 'flipping' brochure, but they vary in quality, complexity and cost so you will need to do some research to find the right solution for you. Essentially an additional output of the same design, it's worth identifying which supplier you will use at the start, and including this information in the project brief. This will allow your designer to factor in any restrictions from the start.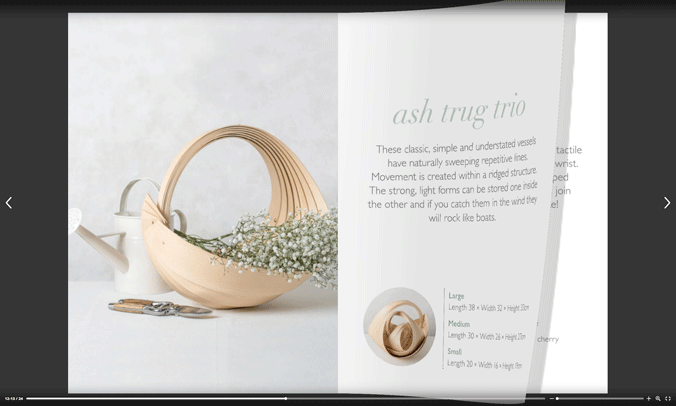 You should also identify where and why you will use the flipping brochure. For example, you might put it on your web site, or feature it on social media, to potentially reach a larger audience, and benefit from the added functionality of screens – eg click to order. Or you may choose to limit the availability of your printed brochure – perhaps for budget reasons – but use a flipping brochure to allow users to have a similar viewing experience.
Depending upon the supplier/platform you use, flipping brochures can risk creating barriers to your content, making it inaccessible for screen-readers, invisible to search engines, or slow to load. If you plan to put the flipping brochure on your website (which is preferable to sending visitors to another domain to view your content) then consider what additional benefit you hope to achieve. If the same content is already on your web site then you risk duplication. If it isn't, then you could be limiting access and search engine visibility to key information.
Make a lower-resolution PDF of the brochure
A PDF of your brochure can be an easy way to offer information in a choice of formats. Downloadable PDFs are faster for users to access than a printed version, are accessible anywhere in the world, and are never out of stock.
If users need to visit your web site to download a brochure then it's worth making it clear whether the PDF contains any additional information, or if it holds the same information, simply in another format. It's also good practice to state the size of the PDF so users know how large the file is before clicking on it.
Another possible use of a lower-resolution PDF of your brochure is to email it to potential customers. Large email attachments can cause problems, however, so do consider whether it would be better to send an email with a link to view or download a PDF instead.
A note on screen-viewing
If you are intending your brochure to be read on-screen, whether as a flipping brochure or a PDF, you will need to let your designer know at the start of the process so they use an appropriate page size and shape. Large and or landscape pages can cause problems on screen. We can easily focus on different areas of printed documents while maintaining an overview of the whole page. On screens we have to zoom in and out to achieve the same effect. Large page sizes can result in text which appears too small to read when the whole page is visible. And when zoomed-in to make the text readable, the context and reading order may be lost.
And finally, a note on limiting access
Flipping brochures and downloadable PDFs offer the potential to use a registration process to monitor or limit who views your brochure. This could enable you to collect information about people who are interested in your product or service – bearing in mind you'll need to communicate exactly how you are going to use any information you request. Before you place your brochure behind a registration process, however, think about what benefit you and your users might achieve, versus any disadvantages to both parties.
Like to achieve additional value from your printed materials?
Why not let me help you? Just get in touch.