Deciding what size and shape to make your printed materials might not sound like the sort of thing that requires active consideration. It may be something that you've never really thought about. However, while there are definite advantages to making the right decision about size, there's also more to this deceptively simple topic than meets the eye.
Begin with the purpose of your publication
The best place to start is to consider what you want to achieve. Do you need to present a lot of information? Would you like to make an impact? Perhaps you'd like your brochure to be kept and displayed on coffee tables?
Bear in mind that you'll need to consider page size in conjunction with page count. Using the same amount of content you could, roughly speaking, create an A4 brochure with 16pp, or an A6 brochure with 64pp. Each will feel very different as an object.
Where and how will your brochure be used?
Next you will need to consider how and where your publication will be used, and whether that will impact upon the size you choose. Will your brochure be posted out? Perhaps it will be displayed in a literature rack, or included in a pack with other items. Maybe you'd like to use the same design as a PDF for people to view on screen. Let's consider the implications:
Posting it out? It's important to consider the restrictions imposed by Royal Mail on the size, thickness, and weight of mailings. Balance the page size with the likely resulting number of pages to make sure you keep within your preferred price band for postage. Don't forget to factor in the weight of a covering letter if you plan to include one.
You should also consider the envelope that you might use. There is, of course, the ubiquitous range of C size envelopes (C4, C5, C6, etc) which are sized to match the A range of paper (A4, A5, A6, etc). But there are also other sizes of envelopes, which are relatively widely available. So as long as you have checked you can source the envelopes you want, you shouldn't feel limited to staying within the A range.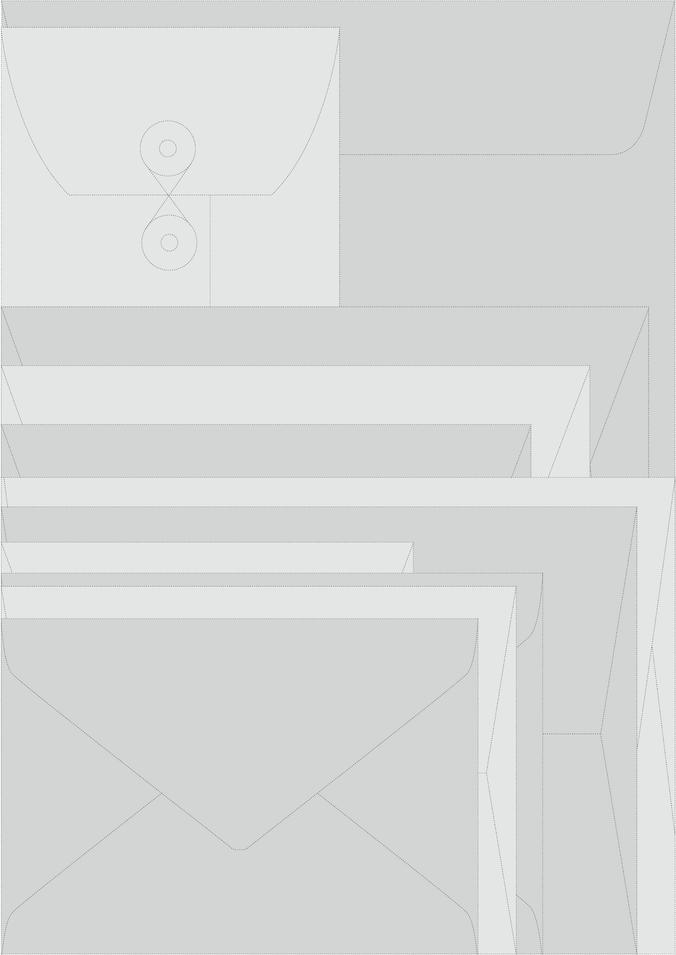 Displaying in a literature rack? These are usually sized to fit standard A range sizes. Making your brochure a bit wider may mean it won't go in at all, and might never be displayed. But making it slightly taller or shorter might make a big difference to whether it stands out. If possible, test out a variety of sizes within the rack to see what will fit, and what stands out. Don't forget to mention to your designer if you plan to display your brochure in a literature rack as this will impact upon the design.
Including your brochure in a pack with other items? Not everything in the pack needs to be the same size. In fact, having a variety of sizes can help make the contents clear. If you do vary sizes having some relationship between the different items will help the items work well together. You could even use a variation in height or size to help communicate the order in which you intend the different items to be read.
Viewing on screen?  You will need to choose a page size and shape which will work well for print production and use, as well as reading on screen.
In this instance making the page size too large can cause problems. Imagine your brochure is A4 landscape, and your text is set at 12pt. This will be readable in print because we can easily focus on different areas of a printed document, while maintaining an overview of the whole page. But on screen the page size is much larger than the type, meaning that when the whole page is visible, the text will be too small to read, and when the text is readable, the context and reading order may be lost. This will force users to zoom in and out more than they might want to.
Having a landscape A4 format probably also won't work well on screen if you want people to view two pages (a double page spread) at the same time. This is because the combined shape of the two pages is too wide in format. If your brochure is originally designed as double page spreads then presenting it as single pages on screen will not work. Again, speak to your designer before they begin work if you think you might want to offer your brochure as an onscreen PDF.
How will your brochure be produced?
The way that your publication is printed will have an impact on the page size you are able to use. Many online print suppliers only offer standard sizes, which helps them to maintain their competitive pricing. If you want a non-standard size you will probably need to work with a commercial printer. If you find this prospect daunting, ask your designer to help you.
The next consideration is the paper that you use. To make your publication as cost effective as possible you'll want to identify a finished page size that uses the largest proportion of each sheet of paper. This minimises waste. If you want to take this idea further, then you could make sure that your total page count doesn't result in any empty space on the paper during printing. This will also make any plate-making more cost effective as you won't be processing partial plates.
Almost all paper (in the UK) comes in the A range of sizes. Some paper also comes in another range of sizes, known as B, eg B1, B2. If your brochure is sized perfectly to use a B2 sheet then using a paper which is available in this size, and a printer who runs a B2 press will maximise the cost effectiveness of production.
Be different
Bear in mind that being different generally gets you noticed. If you can find a page format which fulfils all your requirements from a purpose, use, and production point of view, but which results in something different from what others are doing, then you may just find that it gives you a valuable point of difference.
In your quest for difference consider both shape and scale. An A7 brochure is a very common shape, but an unusual size. And if you make something small – such as jewellery or chocolates then it might complement your product perfectly.

This tiny little brochure from Ian Burnett, The Highland Chocolatier is a great example. Had it been an A5 flyer I would not have picked it up. But being so small (66×56mm) has transformed it into a cute object. The size suits the product that it is advertising, and it's ideally sized to fit in a box of chocolates.
Unusual sizes can cost more if you haven't thought through all the implications. But providing you have considered everything in advance – and perhaps made a few trade offs – then being different really can make you stand out.
Like some help?
If you would like any help identifying the right size for your publications please don't hesitate to get in touch!